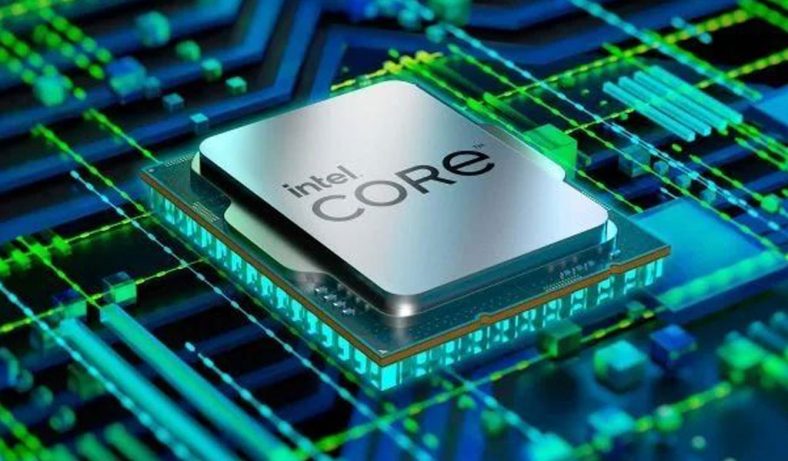 As you may know, Intel's 12th Gen Alder Lake processors are launched with a new LGA1700 socket design. While the pin count for this socket has increased, the overall structure of the processor has also changed, resulting in a rectangular structure instead of a square one.
New processors are not directly compatible with older coolers and require additional mounting kits from the manufacturer. In this case, even if we are using the cooler with the new Alder Lake CPU, various thermal issues may arise.

Even high-end liquid coolers can perform poorly because of the poor placement of the cooler on the processor. At the same time, these reports come not only from user feedback, but also from board partners, cooler manufacturers and system integrators.
So What Is The Root Cause Of These Problems?
---
Are the heat sinks too angled or are the sockets unstable? Apart from that, is the pressure at the contact too high or is the cooling system damaged? One can also talk about very thin and flexible boards, and again it can be difficult to come up with a definite solution. Because these cooling issues can be a combination of several factors.
In previous reviews, the coolers on the new Intel CPUs were said to be fairly flat and not particularly curved. However, even radiator manufacturers like Noctua have noticed that the cold plate/radiator support and thus the available surface for cooling is not uniform. On the other hand, different cooler manufacturers are aware of the problem, and even returns cases are said to be on the rise related to insufficient coolers.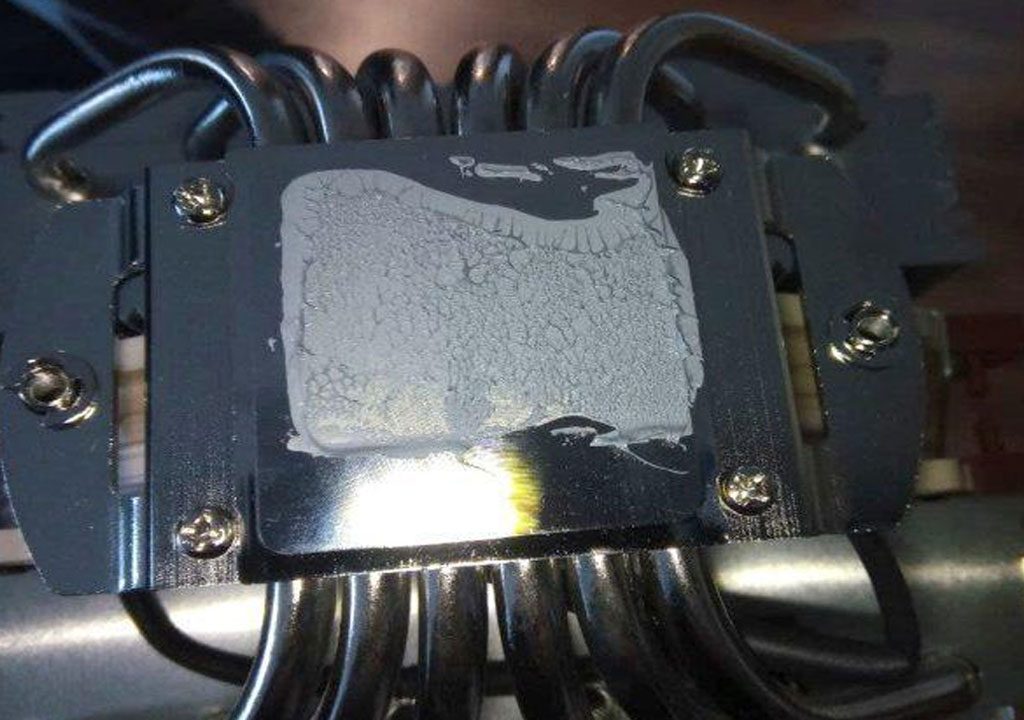 Heatsink Removed From Intel 12th Gen Processor
---
Differences of up to 9 degrees were observed between cooling settings, depending on the liquid cooling, processor, and motherboard in this question. Also, the disassembled thermal paste image looks very different. You can see an example in the image above.
Bumps On The Processor
---
Judging by the many complaints, the processor's heatsink has an outwardly curved structure. You can check out the screenshot below as this has been proven with some measurements. It was also noticed that many of the tested CPUs were bent inward.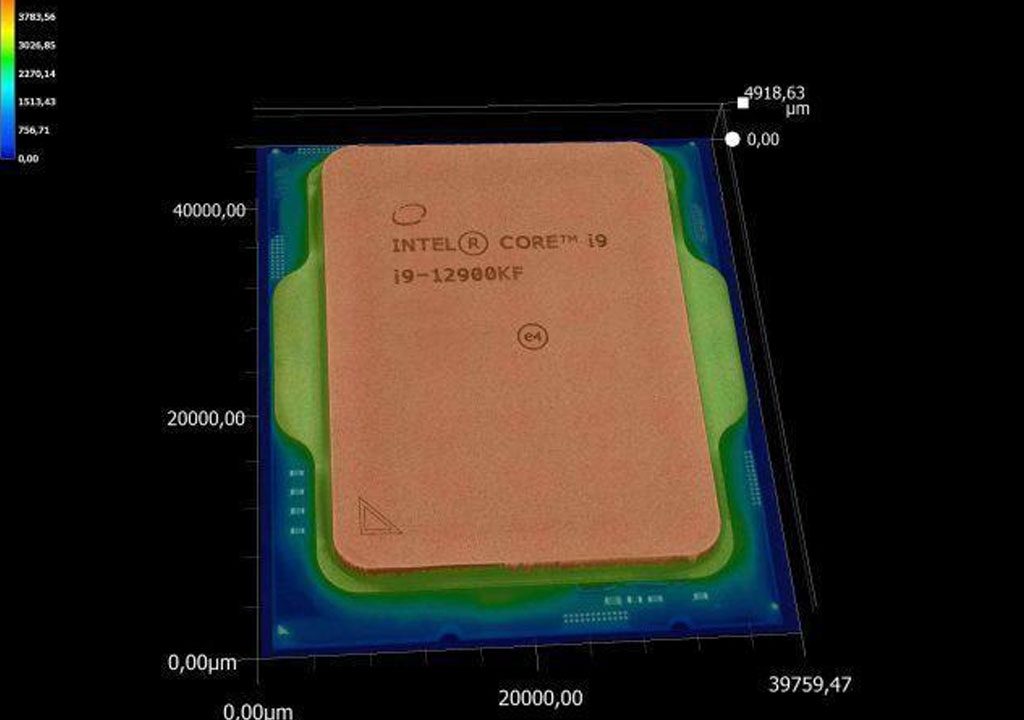 Drawing Of The 12th Representative Surface Extracted Using A 3D Profiler.
---
Let's look at a CPU with an IHS that collapses inward. If you look at the above measurements with a 3D profiler, you can see the flaws on the IHS surface. Again, this is clearly seen using the ruler below.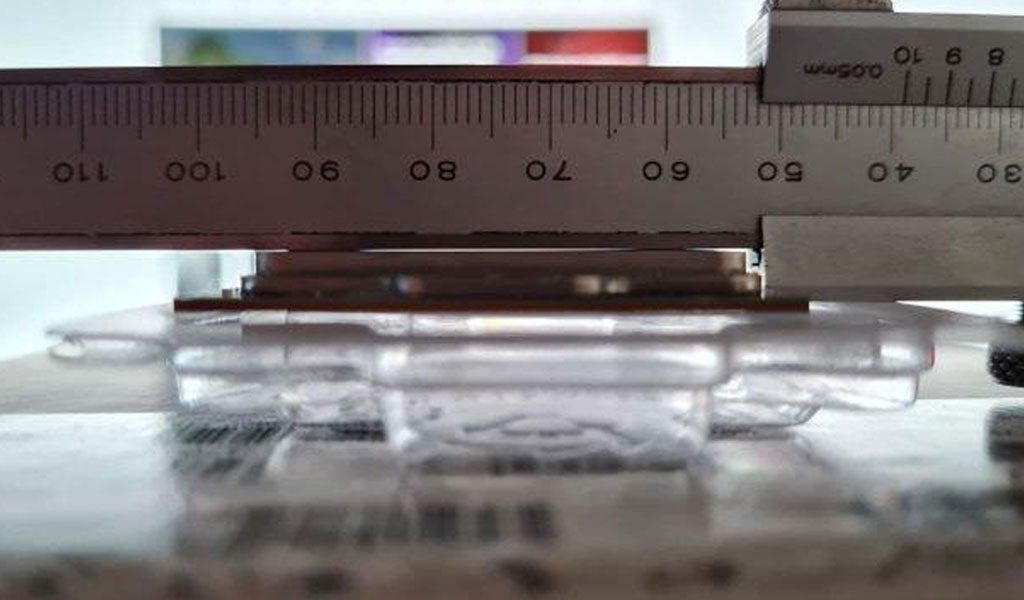 Post-Installation CPU Flexibility
---
It can be clearly seen in the picture below that not only does the heat sink of the processor have an upward protrusion, but almost the entire CPU is curved.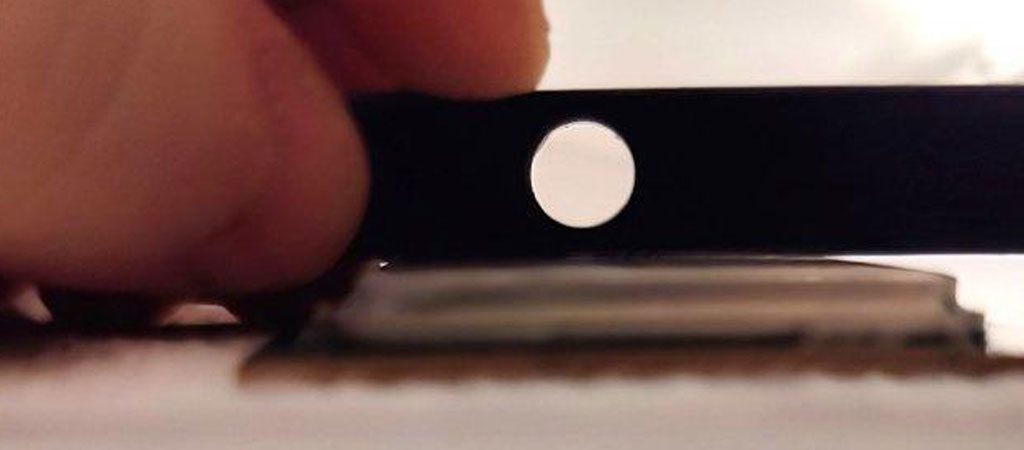 The graph below shows that the thermal paste distribution is also very uneven due to this slope. Components with liquid cooling blocks and manufacturer standard backplanes naturally suffer from various issues. Finally, the cooler does not fully perform its duty and effective cooling does not occur.
However, if even high-end heatsinks are having problems assembling with genuine ones, there must be other reasons besides contact pressure and thermal paste.
Screw Into Socket
---
In addition, the ASRock Z690 Extreme motherboard has also made a standard mount. Before installing the processor, the motherboard's sockets were perfectly straight without any bends. Tightening the latch even after inserting the chip can cause the socket to bend. So a bent socket could be the cause of these cooling issues.
Ridges extend in all directions, so the edges are more affected. Also, the kink doesn't exist in a certain area, and it doesn't look as pronounced on the I/O shield side as it does on the RAM side.
All in all, thin PCBs can be used for motherboards, depending on the manufacturer and model. U-shaped protrusions can be observed around the socket even before the processor is installed.
Finding the Right Intel Heatsink And Fan Company for Your Needs
---
When you are choosing a intel cpu heatsink and fan company for your cooler business, it's critical to find the right one. The right intel cpu heatsink and fan company can be the difference between success and failure.
Intel cpu heatsink and fan that work reliably and are delivered according to your time frame and within your budget can make your operations run much more smoothly and efficiently. Considerations when choosing a intel cpu heatsink and fan company may include the range of materials they are able to work with and die cast on a routine basis, their pricing structure and how committed they are to communication with your company.
Time Considerations
If your business is like most, speed is an issue. Faster production means you can deliver more goods or services at a higher rate and generate more profits. While it is not always the case, you often will want a intel cpu heatsink and fan company that can deliver your parts in a reasonably fast time frame without a drop in quality.
Typically, your intel cpu heatsink and fan company should be able to produce and deliver high-quality casting parts in less than four weeks.
Capabilities
You may prefer a company that can handle a wide range of volume in production cycles, from about 2500 piece to 25,0000 or more. You also want a company that can add value to your parts, such as powder coating, quality machining, plating, painting and/or assembly.
Materials
You may only be interested in one type of metal heatsink for your die cast parts, but a company that is able to work with a variety of metals(copper and aluminum) can give you more options.
Certainly, at the very least, you want a intel cpu heatsink and fan company with a lot of experience with the type of metal you need for your projects. A company that is well-versed with many metals is worth considering as well.
Cost
Naturally, a good price point is important. But it's also important to balance the need for quality parts with the need to save money. Intel cpu heatsink and fan is not a place to cut corners or try to shave money from the budget.
A poorly-designed part can cost you much more in the long run. You should have a sense of what good prices are for die cast part manufacturing and get the best deal you can, but you must make sure you are not sacrificing quality by doing so.
Many part prints or models do not fully reflect the requirements or expectations of the customer. Items like porosity testing, leak testing, sanding of parting lines, cosmetic needs must be defined or else most die casters will quote without these operations only to find out that you need these and then raise the unit price after you are tooled up with them. Upfront honest discussions with your intel cpu heatsink and fan company will save you money in the long run.
Communication
Intel cpu heatsink and fan can be an expensive process. It's skilled metalworking that is not easy to achieve at a high-level. It will be important to have good communication with your intel cpu heatsink and fan professional.
You need to be able to tell them exactly what your requirements are with respect to the parts you need and the cost. You need to work with a intel cpu heatsink and fan company you can trust who can tell you where you can take steps to save money on your parts production and where you can't.
A heatsink manufacturer who is reluctant to talk about their process, their prices or what your options may be unless pressed may be a sign you should consider looking elsewhere.
Experience
The simple fact is that most of the time, the longer a intel cpu heatsink and fan company has been in business, the better off you are going with their services.
Companies that cannot produce heatsink and fan tools effectively at high quality and reasonable cost fall by the wayside very quickly.
Contact Wonder for Your Intel Heatsink And Fan Needs
---
We have been in the Heatsink And Fan business for over 10 years, so you know we are a name you can trust in the cpu Heatsink And Fan industry. Wonder is a family-owned business offering a full range of services, from heatsink to fan to metal finishing.
If you'd like to get started ordering quality Heatsink And Fan from a special name you can rely on, we'd love to help. You can also contact us online for more information or to receive a quote on Intel Heatsink And Fan for your business.